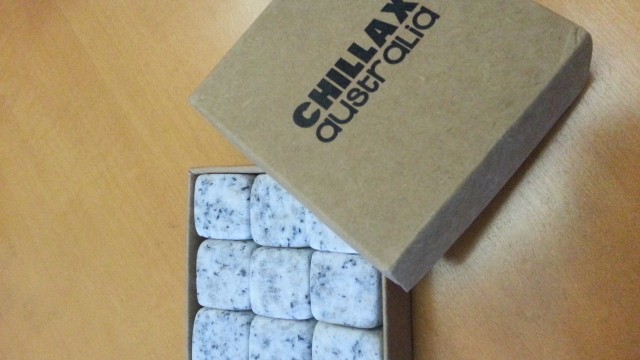 On The Rocks, literally…Chillax Granite "ice" cubes.
So normally, when I have an adult beverage, it's going to contain some whiskey (whisky). It is also going to have a nice dose of ice. It may, or may not contain something else.
Chillax takes the idea of "a drink on the rocks," quite literally. They have developed sets of granite cubes that you store in your freezer, and then use as a substitute for ice in a drink. The idea is that the cubes will not melt, since they are made of rock and not frozen water. Not a bad idea, right?
Well, I have to admit, I was seduced by the allure of the concept. Also, I was attracted to the aesthetics of the cubes. They absolutely do look nice sitting in my glass, surrounded by a shallow pool of Canadian golden rye. With that said, I would have to say that I like my drinks a lot colder than they seem to chill the beverages in which I have tested them. My whisky stays on a bar, and not in a freezer. Perhaps if the opposite were true, then the cubes would keep the drink cold. Maybe that's the intended function. The stones just need a head start…and then they take the chilling from there.
At any rate, I would say I was slightly disappointed by the Chillax Austrailia granite cubes performance. But, at the Groupon rate of $7, it's hard to complain much. They still look cool and people love to ask about them.