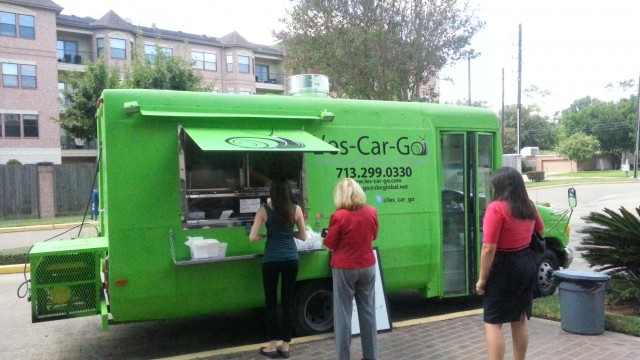 Escargot from L'es-Car-Go, en Houston!
I've always been curious about escargot… from the time I saw it in cartoons as a kid, where the characters acted surprised and disgusted by the idea of eating snails. Although years ago I wasn't 1/10th the food adventurer I am today (I was in fact, a very picky eater as a child) – in recent years I have become insatiable in my desire to try new and "weird" edibles. Houston has helped me quell some of this hunger…and has also been inspirational in the publishing of TJHenderson.com.
When I saw the vivid green "L'es-Car-Go" truck driving down I-10 on a hot summer day a few months ago, I was instantly intrigued. I knew it was something I had to try. I remembered the name and Googled them later. Their menu was fantastic! It was simple, but delicious sounding. And then I saw it.. the L'es-Car-Go on Slow Dough baguette (Sautéed escargots w/garlic and parsley butter on Slow Dough baguette) – And I dared myself to try it.
The L'es-Car-Go truck is a bit of an enigma.. only appearing twice a week. It's available on Tuesdays for lunch, and Wednesdays for dinner. Having a busy work schedule and spending each week in a different part of this Metropolis don't make it convenient for me to always eat wherever I want. I knew one day the stars would align, and L'es-Car-Go and I would finally meet. Yesterday was that day.
I ordered the meal pictured above. It looks very odd, I know.. it sort of reminded me of sauteed mushrooms on a sandwich. Maybe that's what I told myself as I dove into the crusty, chewy baguette. The escargots were not overwhelming at all. They were very subtle in flavor, actually. There was a meaty, umami flavor. They were a little chewy, but very tender. The melted parsley butter dripped from the bottom of my sandwich with every bite. I thoroughly enjoyed it. The fries were fresh, hot, crispy, and seasoned to perfection. While I won't order the escargot sandwich the next time I go to le camion verte, I will order it again! In the meantime, I want to sample the rest of the menu.  :)
Merci L'es-Car-Go, tres bien!