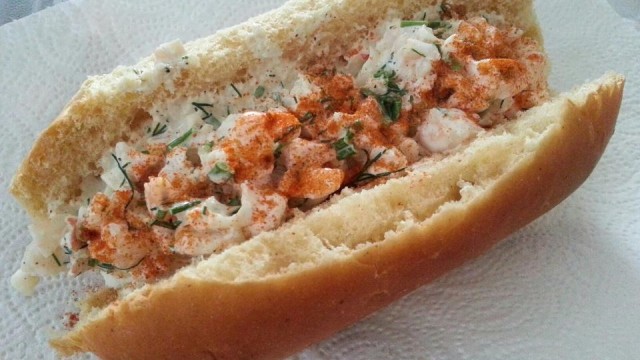 Who Needs Boston Anyway?
Lobster Rolls – With a Texas Kick
So, I have never eaten a Lobster Roll, before today. I only recently became acquainted with the novelty of lobster rolls, when two friends returned from a trip to Boston. Their rave reviews of the delicious northeastern treat piqued my interest, and so I decided to make my own.
After some inspiration from Epicurious.com, and a quick trip to Central Market, I was ready to go. Sunday rolled around, and I dropped the lobster tails and the peeled/de-veined shrimp into a pot to boil. I added some black pepper and Tony's for a little extra flavor. After 15 or 20 minutes, everything was ready to go.
2 small lobster tails, cooked, finely chopped
1/2 pound shrimp, peeled, de-veined, cooked, finely chopped
1/2 cup mayonnaise
Zest of 2 lemons
Juice of 2 lemons
1.5 tablespoon chopped fresh dill
2.5 teaspoons chopped fresh chives
Sandwich buns (I used fresh Hatch Chili "hotdog" buns, as they were in season and sounded awesome)
Using a large butcher knife, I minced the shrimp. My friend chopped the lobster for me, to give me a break. I split the rolls and heated them in the over on low. Next, I mixed the meat and other ingredients in a large bowl. I added some salt and pepper to my own taste. Last, I spooned a nice helping of the lobster/shrimp mixture into each roll…and hit it with some Cayenne pepper. Out of this world.