This Sh*t is Bananas – B-A-N-A-N-A-S
Sullivan's Steakhouse
Last night I had the honor of enjoying a fine meal with my best friend, in celebration of his recent promotion. We were contemplating a dinner at The Bird and the Bear, but after surveying the parking lot, decided it was going to be a longer wait than we planned. We took a short trip down Westheimer, to Sullivan's – a restaurant I've had on my list for years. My visit to Sullivan's just never came together, in the past. Finally, I get to mark it off the list… I decided to go with the Restaurant Weeks menu, bien sur, parce-que.. it's a great deal and the food bank benefits to the tune of $5 when I buy it! '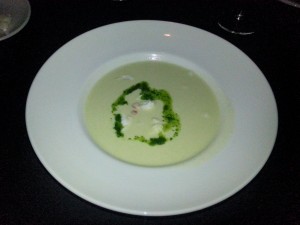 To start, I ordered the Chilled Asparagus Bisque, with lump crab meat and chive oil. I have to say: A) I've always thought the sound of chilled soup sounded rather…cold barf-ish.. B) It was surprisingly delicious. It was a very refreshing summer-meal treat for someone like me, who loves asparagus. The crab meat was a wonderful touch, and the chive oil brought a nice seasoning to the 1st course.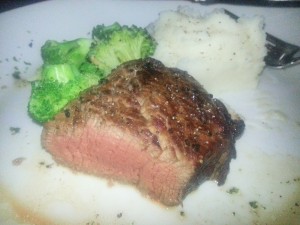 Next, I had my main course.. 8oz Filet Mignon, medium-rare, with sides of horseradish mashed potatoes and steamed broccoli. The steak was so tender, you can practically see it falling apart in the picture. It had just the right texture on outside, and was melt-in-your-mouth on the inside. It was seasoned very simply, leaving the flavor of the premium beef to speak for itself…and it was speaking loud and clear for me. The sides were not especially note-worthy…but hey, I wasn't there for the potatoes.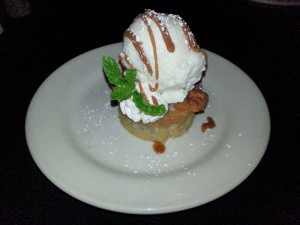 And again, my addiction to bread pudding rears it's head. This time, with a warm bananas foster bread pudding. This treat was topped, as you can see, with a huge scoop of vanilla ice cream. It worked so well with the caramelized bananas, I thought it might be banana ice cream at first. The bread pudding was very firm, and well composed. The bananas foster aspect was definitely it's highlight. Even so, I'm not sure it beats Americas tequila bread pudding.
Overall, I would say that the atmosphere at Sullivan's has a certain swagger, like you might expect from a restaurant out of the 30′s. The hostesses were a bit uptight, but fortunately only had to deal with them for about 30 seconds. Our service was very good once we were seated, and the restaurant had a warm feel. I'll be back.