Yumm..Helping Out Never Tasted So Good!!
Houston Restaurant Weeks 2012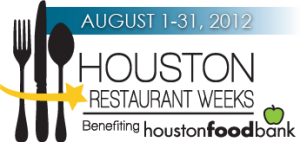 Restaurants across the city are geared up to serve some awesome meals through the month of August. I couldn't be more excited!! This is the first year that I will get to take part in this awesome tradition. I have a short list of restaurants that I want to check out through this month, but I doubt I will get to them all..
Concepcion
Foundation Room at House of Blues
Cullen´s
The Bird & The Bear
Tango & Malbec
 Smith & Wollensky
Charivari
Americas
Sullivan's
If you're interested in planning a few visits of your own, go check out the official website, here: