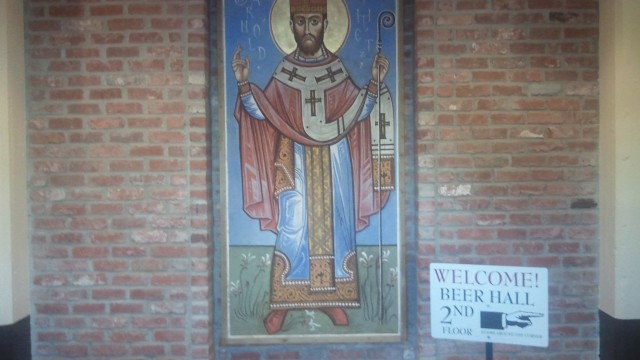 Holy Banana Split Beer, Batman!
St. Arnold's Brewery – Investor's Lounge Night
So, it's taken me a few days to talk about this…and there's lots of good reasons for that, but I think they are all (finally) out of my system. St. Arnold's Brewery has a special event, once a month, for it's investors and for employees..as well as guests of either. I'm fortunate enough to be friends with a former employee, and her husband, who is a brewer.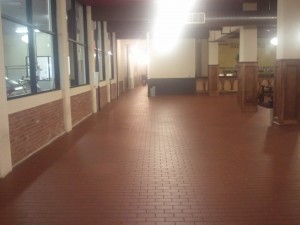 My party and I arrived around 6, at the Brewery. Traffic was brutal, and it was still very hot outside…so a nice, cold Lawnmower sounded amazing. We walked in.. through the old hallways of what was once, long ago, a food storage building for Houston ISD…through the main drinking hall (which one friend accurately described as looking very similar to the cafeteria at "Hogwarts"…lol) Finally, we got to key-coded door of the Investor's Lounge. Our brewer friend punched in a combination, swung open the door, and BOOM – We were hit with a tidal wave of laughter and cheer from the room ahead was filled with dozens of people enjoying St. Arnold's awesome beers. There was also a nice spread of Italian food served buffet style for dinner.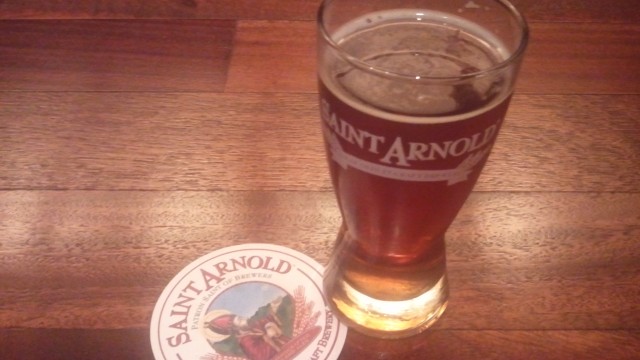 We each got a glass, and the bartender filled it with beer. After selecting a some food to munch on, we decided there was no where to sit in the Investor's lounge. We decided to sit outside in the main drinking hall, where there was plenty of space. It seemed as if we had no sooner sat down, than our friend brought out one of his very own creations in a big pitcher.
This was no ordinary beer though. This was like dessert beer. He had created 3 different batches, with slight variations, and this one took the gold. He poured us each a small glass, as this half pitcher was all that was left of it. I put it to my nose, and I could smell the chocolate. I took a sip and was instantly aware of a creaminess (like a banana flavor almost) on top of the hints of chocolate. For the first time ever, I could actually conceive having a beer-shake. This brew was amazing! Not to mention that it was chosen by St. Arnold's to be produced in small quantities (like the Divine beers) later this year or early next year. We also got to try Divine 13 (and Divine 12 just hit the shelves…like 24 hours ago) ..it's crisp and smooth…loved it. Anyway, no word yet on the official name of the dessert-like awesomeness, but I'm telling you, you're gonna want to keep an eye out for the banana split beer at the Downtown Spec's. When I know the name, so will you, bien sur.