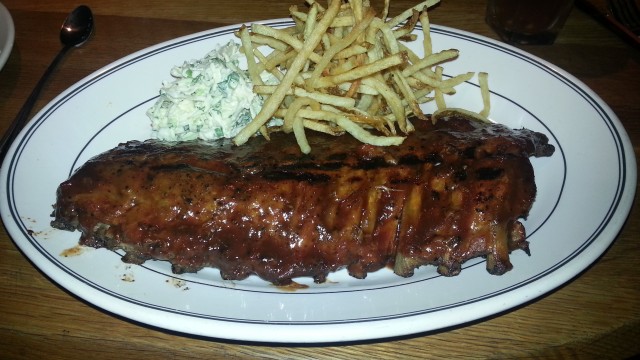 Hillstone Restaurant…Mmmm ribs…
Hillstone – 4848 Kirby Drive, Houston, TX
I'm always impressed with Hillstone.. but their ribs are amazzzing if you like saucy, tender, delicious, fall-off-the-bone ribs. I had them today for lunch. Usually, I prefer a dry rub, but just because that's my preference it doesn't mean I don't love these too. Besides, they offered me a warm, damp cloth towel to clean my hands with…always a sign of class.
Hillstone's atmosphere is sultry and sophisticated, and it offers fine dining with a somewhat casual, romantic feel. It's dimly lit and easy on the eyes.
Their french fries and spicy mayo are out of this world. The slaw was good too, if you're into that. The avid Houstonian in me recommends you go check it out for yourself..